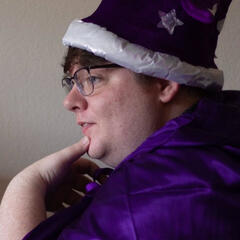 Andrew Sherman
Hello! I'm a Podcaster, Streamer, and Game Designer from Northern Kentucky currently living in Ann Arbor. I'm currently looking to grow as a creator and work with exciting people on new projects!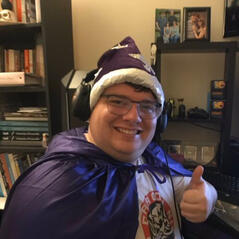 About
I'm a tabletop game designer looking to turn my passion toward mechanical and narrative design and experience working in Software QA into a career in Video Games. I've designed games using Chess Boards, Playing Cards, NERF Guns, and Interactive Web Pages and I'm excited to explore new areas of game design. I'm also a big fan of Baja Blast.

I'm also a variety streamer who regularly streams Pokemon, Ring Fit Adventure, and various Tactics Games like Battletech and XCOM. I've hosted and participated in a variety of charity streams, and planning the Orange Groves Extra Life streams is always the highlight of my year.
Podcasts
I host a variety of shows and would be excited to guest on yours! The ARGonauts Podcast, Champs in the Making, and Wik-EEK!-Pedia are produced through The Orange Groves while The Podcast Mines: There But For the Grace Of Pod Go We does not currently have a network.
In addition to hosting my own shows I also love guesting on other podcasts! Please don't hesitate to reach out if you are looking for a guest! You can find episodes I've guested on below.